Rachel Thomson and Sue Scott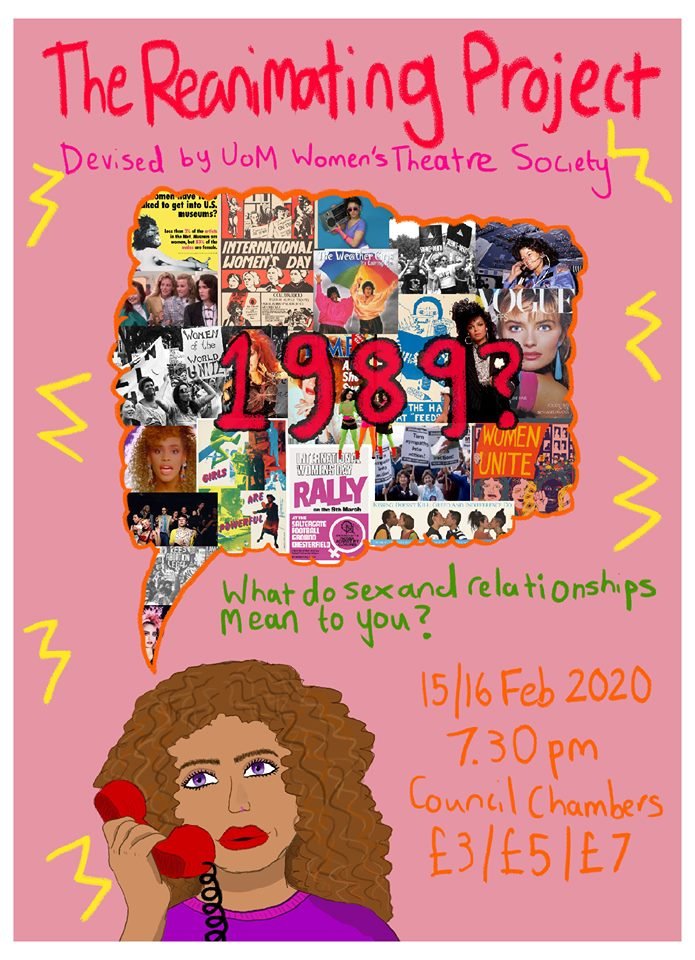 What does it mean to take data back to a community? When thinking through the return of the WRAP data to Manchester we had to think about whether any of the spaces or access points from the original research still existed or made sense. We quickly found that many of the youth centres we had visited in the 1980s had closed down and in some cases been demolished. One access point that did seem possible was the drama department at the University of Manchester. In the original study three interviewees were drama students at the University. These interviews captured a particular culture of sexuality – political, reflexive, cosmopolitan but also complicated in term of the sexual politics of the drama scene and expectations of intimacy and availability within the theatrical community. Read again against the elapsing thirty years these interviews seemed to be #METOO before the hashtag.
We approached the University drama department to see if there might be any young women who would be interested in revisiting these interviews today. What would it mean to do this? How much trouble might be involved in this digging up of the past? We were keen to share the anonymised material but also concerned that these accounts would be treated with respect and care. It felt very complicated, yet the possibility of working with contemporary drama students, engaging with verbatim theatre practices and utilising performance as a mode for opening the material up for exploration was an exciting possibility.
Through the help of Alison Jeffers we found the Women's Theatre Society at the University of Manchester- a student society lead by Lae and Elena, two final year drama students who had recently taken over the leadership of a safe space where female students can engage in performance. Elena and Lae were very open to our invitation and ran with the project – workshoping the material, inviting researchers to join them for questioning abut the original context and engaging themselves in short interviews with original researchers. On Saturday 15 February they presented their final piece at the student union and were met with standing ovation.
Here are some reflections on the performance by the two original researchers who interviewed over 60 young women in Manchester 30 years ago. We hear first from Sue Scott and then Rachel Thomson.
Sue Scott
The weekend had been a bit of a rush and I arrived 'just in time' from a crowded train so had not really thought my way into the situation and wasn't at all sure what to expect. It was delightful when Rachel and myself were greeted by enthusiastic and excited young women – the play's directors, Elena and Lae.
I had a sense of being a 'celebrity' by virtue of being part of the original WRAP project – very strange when it was all so long ago, but as they made clear in the Q and A they wouldn't have done it without WRAP and they had clearly got so much out of it that whatever else happens to the play it has played an important part in their student experience.
Such a lot of them on stage – and so colourful – it gave a sense of the best sort of 'Girl's Group' turned theatre. I'm sure that for some of them the confidence was hard won, but they inhabited it, at least for the period of the play. The way that they developed and interwove the stories from the interviews with there own was very well done, if a bit of a whirlwind experience at times. They were brave in what they said – not just because they were saying it in public, but also because they had already said it to themselves and each other and carried on. Yes sex is discussed everywhere, but yet it isn't.
The continuities and commonalities were striking and yet the drama students who Rachel interviewed in 1989 probably couldn't have done this, so something has shifted. The students demonstrated wonderfully some of the many and various ways of being a young woman in relation to their sexuality and their presentation of gender in a way that might have been easier in 1979 than in 1989 – but of course only for a minority and in a safe feminist context.
It struck me so forcibly that the young women of the WRAP data would now be old enough to be these young women's mothers – older perhaps than some of their mothers. It was clear in the Q and A that this was not lost on them, but there was no time to ask them if they discussed the play and the WRAP project with their Mother's or Aunts – I would love to know. The 'imaginary' interview with one of their mother's was powerful.
It could have been depressing as many of the negative aspects of sex and relationships for young women were clearly portrayed but they had their appropriate place and not to the exclusion of some positives and also 'ordinary' and 'mundane' experiences being recounted, of which there were many in the WRAP data, but perhaps we didn't take enough note at the time…
I was struck by the dynamic of the interviews – very odd to hear Rachel giving voice to her younger self! And the way the young women took this as a starting point to – as Rachel put it – then 'interview themselves'. It definitely made me think about different ways of accessing data and stories.I think the theme that I came away with though was 'friendship'– or at lease comradeship – and in the young women's stories and my thoughts about not having explored this sufficiently in the original project. I now want to read the transcripts of the interviews they drew on.
It's also important to think about what the theatre society can do with this now – all the hard work should have more of an airing and it would be great to share it with other young women.
Rachel Thomson
There is much to be said about the performance, but the point I want to note here is how it was so very different to what I had originally anticipated and how this difference gives us both insight into the way that social change is lived and hope for the future of gender equality and sexual revolution.
When working with the material, what the young women in the theatre society notice and are moved by are the interview encounters themselves: the communication that took place between a young women (much like them) and a researcher (not much older). The interview questions were bold, much bolder than would be possible or acceptable today (when was your first sexual experience, did you enjoy it, how did you know…). They found the questions problematic and part of the performance shows their irritation. But they also noted that the space that the WRAP young women took in these interviews was remarkable – speaking with an honestly and openness that was transformative. Not simply in the moment, but again and again as the material is performed and reanimated. The young women in the Women's Theatre Society wanted to do justice to the realness of the young women's accounts. In doing so they created their own monologues, effectively interviewing themselves but in the context of solidarity from others – both in the present and in the past.
Witnessing the performance was an extraordinary experience for me: understanding that a form of evolution has taken place, but that it demanded an engagement with a tradition of speaking out together about sex. The young women's monologues did not start from scratch, they began from where the interviews in the WRAP archive left off and they honour the form of talk and communication that marks the highpoint of those conversations. Some of the monologues deliberately used the interview as a form. For example Savannah's piece was an imaginary interview with her mother that allowed her to step into her mother's shoes and to speak about a vivid experience of gay pride in Ghana and Black Gay pride in London – luxuriating in the beauty and freedom of her daughters.
As an original interviewer who has now spent much time revisiting the conversations that took place thirty years ago I am very sensitive to the plasticity of our subject positions: I am me now (a mother), and me then (a daughter). I am the interviewer and yet the interviews tell my story as well as the women I spoke with. It was this fluidity, possibility and pride that I heard most clearly in the performance. Yes, there were and are things that don't change. Sex and power still combine in cruel ways and new generations of young women appear to have to learn things again painfully. Yet it is also possible to stand on each others' shoulders, to share knowledge and build possibility. When this happens we are very powerful.