Ester McGeeney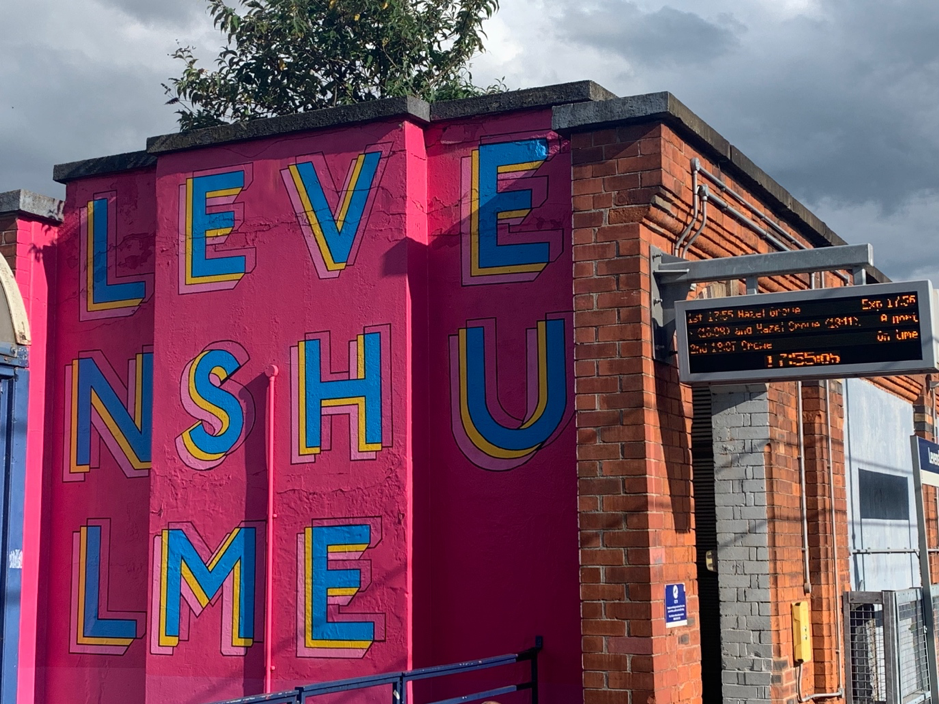 Today I went to Levenshulme and back to go to a session with the project that Ali Ronan has been running with the Levenshulme girls group. Our pilot reanimating data project where we work with a group of girls aged 12-18 to explore different ways of working with data from the WRAP archive and finding out what it means to 'reanimate' it in 2019. We want to see if the girls are interested in the archive and in the 1989 young women's stories, to develop some reanimation techniques and in doing so see what we learn about sex, gender and social change. I travelled up for what would be their fifth session. So far they have looked at clips from 1980s Top of the Pops and discussed black women in music. They have read short extracts from the WRAP archive, usually performing the roles of interviewer and interviewee in pairs. The extracts have kicked off conversations about lying to your mum, being a Muslim in Britain, sex education, periods, taking risk sand gender roles. The group have also played games, got to know each other and discussed research ethics and confidentiality.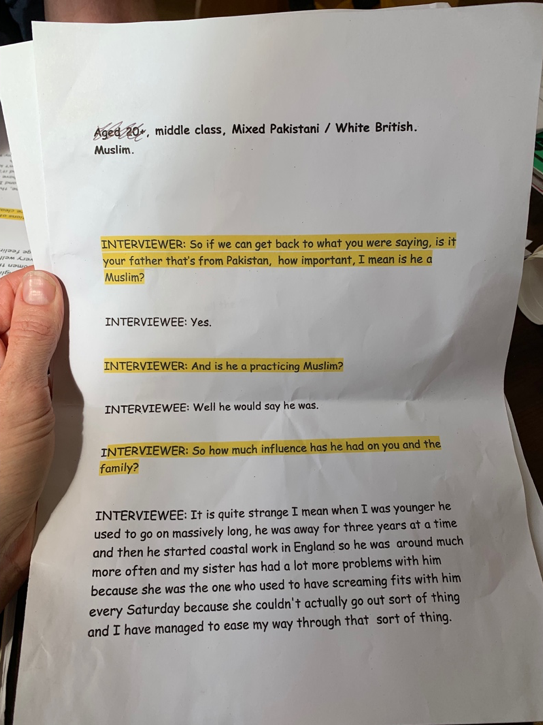 Former youth worker and historian Ali has been running the project, working with youth worker Toni who has now left to start another job and project lead Marianna. I don't live in Manchester and for me to take part in what will be session 5 its an 11 hour round trip. A long day for a 1.5 hour session but well worth it. Because it ended up being much more than a 1.5 hour session. It was a meeting with Ali in the community café at Inspire, where the Levenshulme girls group meet to reflect on the work so far and plan the next stages. A chance to see the STUFF the group have been creating – long rolls of paper with body outlines on them, where the girls have had a go at naming and fleshing out the WRAP interviewees. They imagined one WRAP girl – until now called MIS09 – as Haleema. 15 years old, really smart, a small group of friends (but popular), loves sport, running and football, 6 siblings. Very strict and religious. She wears a headscarf but remains otherwise faceless. The other girl (we've been calling her AMB18) is Malaika. She takes pictures of nature, she doesn't wear make up, she's pretty, beautiful, she can sing, she's artistic, a nice person, she's popular, she cares about the world and she's finished school. She wears her hair half up and has one big eye open.

My trip was also a chance to meet Paula Carley, a fantastic new addition to our project team who is working with us on several of the Manchester projects as part of her engagement role for Manchester libraries. Paula is a digital artist who brought along 6 ipads, a bag of sharpies, paper and microphones to the session. Just seeing this STUFF got me excited about the possibilities for reanimation. Paula also brought print outs of some of the images the group had made the previous week when she had come along to the session with her colleague Siobhan. Siobhan had worked with half the group who were interested in comic strips. They had experimented with using the app 'Comic', taking photos of themselves (and of Malaika) and adding captions.
My trip was also a chance to see Marianna Vareli, who leads the Levenshulme girls group, again. Marianna was just back from Greece and had missed a couple of sessions. Ali brought her up to speed and we planned for what would happen over the summer. Marianna explained that the numbers often drop off over summer as most of the girls come straight from school and when school finishes they have quite a distance to travel. We agreed to keep the project going if the girls are interested. It was volunteer youth worker Nadine who first introduced us to the project but she hasn't been able to come for a few weeks. Whilst Marianna has been away youth worker Toni has kept things going but she has now left to go to a new job. Ali has been running the project but she's also now off on holiday for 6 weeks so now the project is over to Marianna and Paula and me. A rotating team of youth worker, researcher, artist women.
Sitting in the community café we also had a chance meeting with Dez who heads up the Levenshulme Youth Project. Dez was interested in the project and what we were doing and asked us what would happen at the end of it. He'd like us to have a community event in the café at the end of the project, perhaps with screen showing any films the girls have made. He says he always looking for ways for the community to see what the youth project is doing. We reflected that we weren't quite sure how the project would end as it depended on what the girls would like to do. The group have been working in a participatory mode. Allowing time for the girls to consider how they might want to take the project forward and what kinds of creative modes they might like to explore. Four weeks in and we are still not sure where the project is going or what the focus might be. There's an interest in illustration and comics and themes have emerged around risk, respect, periods, mothers, boundaries and race. But we've yet to negotiate where the project might go or what the end product might be. Ali reflected that going into a project without your agenda (Right! We are doing a drama project) is much slower, more uncertain and unpredictable. We all reflected that youth work is slow. In this project each session is only 1.5 hours and by the time everyone has arrived, chatted, introduced themselves and played some games, there's not much time left. Each week Ali has observed that there has been too much to say and too much to do. The previous week had been particularly hectic as film-maker Marie had arrived and consent forms and permissions needed to be negotiated and Paula and Siobhan from Manchester libraries had been there. There were lots of adults and time was needed to get to know each other and start to build relationships.
Outside of the sessions it has also taken time to sift through the data to find extracts that might be suitable. The archive is not yet in any order. Not all of the transcripts have been anonymised and there are certainly no codes or tags to help navigate easily to extracts or interviews that would 'work' for this particular group. Most of the Levy girls are younger than the WRAP girls (sometimes by about 10 years) and it appears that sex, sexuality and relationships are not hot topics that are easily discussed within the group. We were told from the outset that the girls are young and that many of them are from strict religious families. A warning perhaps? And one that was somewhat confirmed In the first session when Ali showed a clip from Top of the Pops as a safe and easy starter to the project and one girl remarked that she isn't normally allowed to watch that kind of thing at home. A risky move when we thought we were playing it safe.
Starting our creative work in Manchester with the Levy girls has been productive. Forcing us to think about what it is possible to do and whether the work is possible at all. It has challenged me to think again about what it means for material to be 'appropriate' in education contexts. I keep checking that in my selection of extracts from the group I am not censoring material unnecessarily, falling into the age old sex education trap of giving young people too little and too late, perhaps shaped also in this case by (my own?) racist ideas about what young religious and migrant girls do and don't need in relation to sexuality and relationships. Not that it has been hard to find extracts. Each interview is full of material about women's lives, families, career choices, friendships, social lives, bodies and health. There's material about politics and discrimination, migration, poverty and social mobility. It's within this context that the interviewees talk about (and as a reader you come to understand) their sexual experiences, relationships, desires and decisions.
For session five we had decided to focus on risk. This was a theme that had emerged from earlier discussions, with one young woman reflecting that she doesn't take risks but would like to die her hair purple. Ali and I decide that we will re-ask one of the questions that the interviewer asks to lots of the interview participants: Are you someone who likes to take risks? In the WRAP archive the responses are beautifully varied. One young woman says she sometimes doesn't pay the right bus fare, another says she once smoked dope, another has booked a holiday she can't afford and another stole some tampons from a club toilet. Our plan is to explore this data and reanimate it, using Paula, the iPad and the comic app.
Unusually most of the girls don't turn up, perhaps because it's the end of term. So we only have the two older girls who act as peer educators within the group. We all introduce ourselves and then Ali opens up a conversation about confidentiality. E and A say that this isn't something that they talk about much at school, only when the teacher wants to take you outside of the room to have a talk. It comes up a bit in E's health and social care course and in A's psychology course and in her photography course where they are told that they need to get people to sign model release forms. Although as Paula reflects, as a photographer you don't actually need consent to take photos of people in public places.
We work in pairs, two peer educators, two youth workers, a researcher and an artist. Paula gives each pair a mike and we record ourselves being asked: are you someone who likes to take risks? Paula and I reflect on how this has changed over time with both of us feeling like we used to be a lot more able to take risks than we do now. We all reflect as a group that this is a hard question to answer. Much like many of the WRAP girls we struggle to come up with something to say. Next A and E perform a couple of extracts, audio recording so that we will have material that the group can use to play around with in making animated material. The first extract is about the girl who says the only risk she takes is going on a holiday that she hasn't paid for. This doesn't seem that risky initially, although it leads to A telling us about the time she went to Lonodn on her own on the coach. This was scarey (and something E. definitely feels that she would never do) and A. didn't feel brave enough to leave her friends house much in the three days she was there. When it came to getting the coach home she couldn't find the coach stop and found herself wondering up and down the Hammersmith Road looking for the coach and then crying as she realised she'd missed her coach and had no idea what to do. All the adults imagine that young people get taught lots of about 'risky behaviours' at school but A and E don't seem to have. There's not much on drugs and when we read the extract about the girl who smoked dope once, A and E reflect that this doesn't seem that risky anymore. Lots of people do it and the police don't care. Next we read about the girl whose risk is sometimes not paying the right bus fare and once taking tampons from a club toilet. Not paying the right bus fare isn't possible anymore the girls say although you can back pass your bus pass, slipping it through the line of people so that more than one person can use the same pass. And stealing tampons is fair enough. They should be free anyway. We all agree.

We run out of time and there was none left for doing and making. Its hard to find the balance between unpicking and discussing and creating and doing. Ali observed that the previous week they had split into two groups, one led by Ali and one by Siobhan. Youth worker Ali focussed on process, discussion, meanings and group relationships. Artist Siobhan focussed on product – creating the comic strips and using the comic app. We agree we need a combination of both and that perhaps its time to orientate this group towards making a product.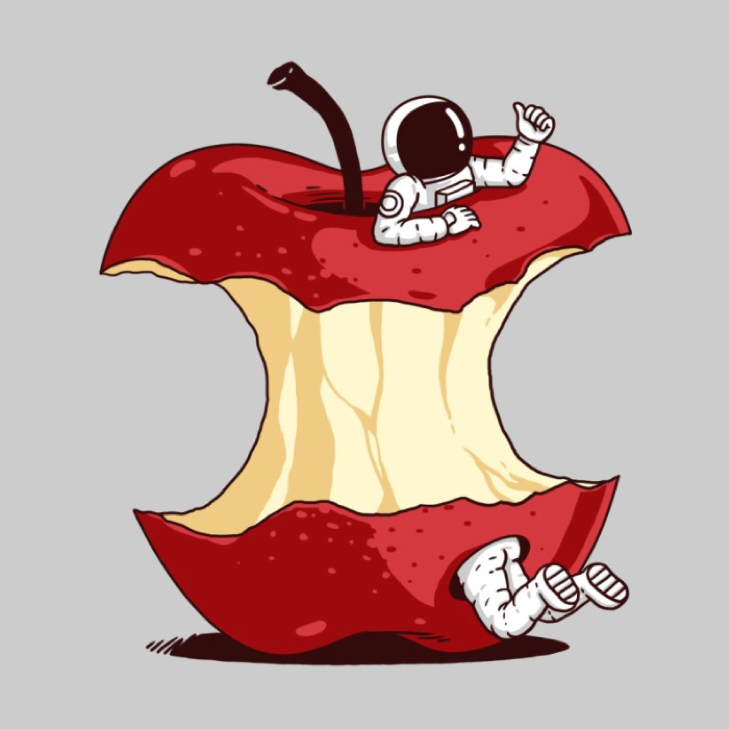 We are learning that the work is slow, that we need to talk as we do or the doing will never happen and that youth work is unpredictable. We are also learning that the WRAP extracts will take us in unforeseen (and forseen) directions. Or as Rachel Thomson has suggested – that the WRAP extracts are wormholes – tunnels through space-time that you dive in to at one end and never quite know where in space-time you will journey to. Jumping into one story from 1980s Manchester about NUR19's 'risky' decision to go on a holiday she can't afford takes us straight to London in 2019 and A's story of getting lost and panicky in London. Then we are off to 1980s Paris as Paula tells us her partners story about getting separated from her friend on the metro and roaming around the city to try and find her in a pre-mobile, pre-digital era.
We plan for future weeks to try out creating a comic strip or using the book creator app to create a book that animates the WRAP girls stories. The girls are interested in stories of migration, of fitting in and not fitting in when you move to a new place. More wormholes to fall down and see where we end up.