Ester McGeeney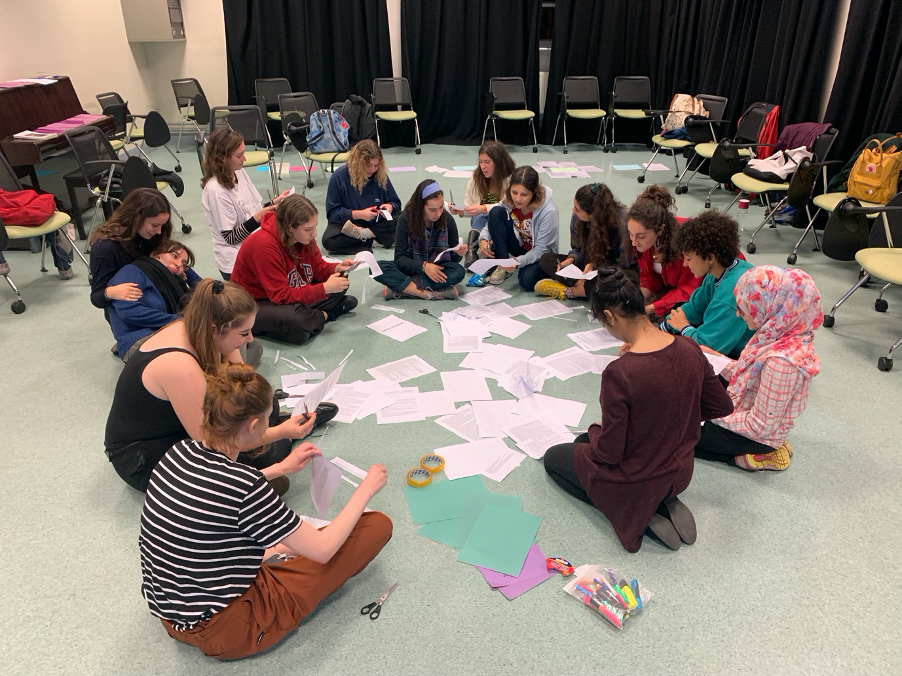 Back in October 2019 I went to one of the Women's Theatre Society's Reanimating data workshops. The group were coming to the end of five weeks of workshops in which they had been exploring data from three of the WRAP interviews using movement, games, creative writing exercises, song, music, ephemera from the 1980s and lots and lots of discussion. The project was led by third year drama students Elena and Lae with different women invited to facilitate the workshops, of which there were two a week. The workshops were popular, with between 8 and 20 women coming each week and new participants continuing to join. The workshops were also productive, generating so much material and so many ideas that Elena and Lae decided to put back the performance by a few months to give them longer to work with the material.
This was the first (and only) workshop I went to. I was keen to observe the group and see how the young women were working with the data we had given them but the group soon put me to work. Elena asked me to talk to the group about the Reanimating data project and then run a workshop in any way that I wanted to. A few weeks previously I had been in Brighton to see the sound installation that has emerged from another one of the project experiments – What really counts? In this experiment Rachel Thomson and sound artist Alex Peverett had been working with fragments of original audio recordings collected as part of the Men Risk & AIDS Project (MRAP), a follow on study to the WRAP with interviews conducted by Janet Holland, Sue Sharpe and Tim Rhodes. In the experiment, as well as working with fragments of the original recordings, Rachel and Alex also worked with original MRAP interviewer Janet Holland, asking her to re-record some of the questions that she asked the young men 30 years ago. The final piece includes a combination of the new material re-voiced by Janet (and 2019 young person Issac Thomson) and the original poor quality recordings of Janet, the other other MRAP interviewers and some of the young men they were speaking to.
What stood out to me as I listened to the installation were the questions. Taken out of the context of the interview they sound blunt and obtrusive, making the sociological 'sex' research interview strange as you reflect on what it is possible to ask and say in this public/private space.
Listening to the installation I was also interested in the interplay between deliberate and random selection. Rachel had been through the MRAP data and coded it, carefully selecting questions to re-voice and material to include in the installation. But what the viewer hears at any time is selected at random by the algorithm that Alex created. There are chunks of data that come round cyclically but as a listener you are never sure what question or answer you might hear next and whether it will be Janet from 2019 that will speak or Janet from 1991.
Fresh from viewing this latest experiment I decided to play around with these ideas in the theatre workshop. I was interested in working with the questions from the Women Risk and AIDS Project (WRAP) and playing with this tension between purposeful and random selection. We don't have the audio from WRAP like we do from MRAP, but we do have the transcripts and had previously given the group three transcripts from the archive that had been very deliberately and purposively selected. All three interviews were with young women who, in 1989, were all drama students at the University of Manchester. We were interested in how drama students at the university thirty years later would engage with the material and its descriptions of sex, gender and the role of women in the 'drama scene'.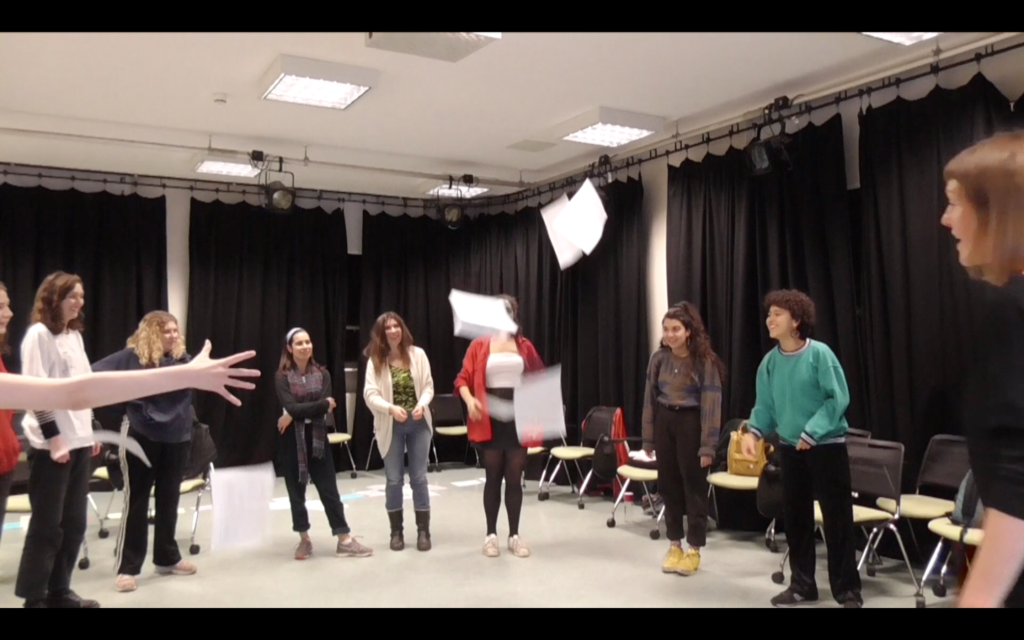 I handed out print outs of the three interviews to the group. I asked them to throw the papers up in the air and then to mess them up, to mix them up, to stamp on them and scrunch them. I wanted them to know that they could be irreverent with the data – to mess with it and play with it. A month earlier when I had met with the society committee one of the young women told me that she had read all three interviews and felt overwhelmed by them. They were so rich. There was so much to say about them and so much material that she could use for the workshops she was going to deliver. Her feelings were very familiar to me. I frequently felt overwhelmed by the data set of over 60 interviews and often struggled to know which interviews and which extracts to use when working with other groups. Today I wanted to work in a different mode. I wanted to work with the data more randomly, more irreverently, more playfully.
Next I asked each person to select one or more sheets of paper at random and to chose questions that stood out to them and to cut them out. These could be questioned that interested them, or jarred them and they could discard the sheet they chose and select another if nothing stood out. As they cut them out they stuck them on coloured pieces of card.
Working in pairs the group had a go at re-asking each other the questions from their newly created interview-question-collages and then reflecting on how this felt. I'd asked them to keep the original pages from the transcription that they had cut their questions from and put them to one side. Once they had tried interviewing each other they compared their own responses to those of the original participants, captured on the cut-up transcripts.
The final task was to devise a short scene that captured their experiences of re-asking the questions and reflecting on the responses past and present. After some time for experimenting, devising and rehearsing the pairs and trio performed their scenes to the rest of the group. I recorded each of these, with consent, on my phone. [Available to view here]
There were six scenes in total, each capturing different themes. There was religion, faith, death and dying and hospital care; school sexual culture, gossip, slags and virginity; AIDS, changing attitudes and sex education; the mother-daughter relationships, periods and sexual learning; sexuality and relationships. Some of the scenes reflected on the research process itself, exposing the questions as blunt and strange tools, offensive and unusable when taken out of context. Other told personal stories, intergenerational stories or captured moments of discussion. The young women used words and silence, their bodies, chairs and bits of paper and other props. Some played with time – spinning it round, splicing it up, juxtaposing now and then, 1989 and 2019.
As a mini-collection then scenes seemed to me to show the range and the breadth or what the WRAP data (+ these women and their creative practice) can do and become – the conversations, stories and silences, as well as the reflection, thinking, performance and play.
Are you Catholic?
This trio started their scene with one young woman asking another: are you Catholic? The question was abrupt and jarring but effective. Her respondent opened up, talking about her dad's experiences of Irish Catholicism and telling a story about her Grandad's funeral, in which the priest, who turned out to be her Grandad's cousin, barely mentioned her Grandad at all. 'My Grandad's body is right there' she said, 'and no-one has mentioned him for like two hours'. As she was telling her story the other two group members used physical theatre to act her stories out. Then they switched and the same question was asked again. The new respondent told another intergenerational story about her families experience of being Christian scientists. She tells the story (whilst her co-performer acts it out) of her Grandmother being in a car accident and refusing to go to the hospital even though she was in 'so much pain'. Her dad took her Grandmother there against her will. 'I wish' she said, 'they didn't have to think like that'.
2. Back to back
There's no question in this scene. Just two young women sitting back to back on the floor, talking. It's a snapshot of a discussion about their experiences of sexuality at school, naturalistically performed as if they are just talking to each other as two friends. School is a place where women's sexuality and virginity are policed and gossiped about. There is always a 'slag of the year'. Knowledge of who has done what is public and school seems to kettle the gossip and the cruel labels so that nothing can escape. It's only once you leave school and come away to university that you don't hear those words and those labels and sex doesn't seem 'naughty' anymore.
3. AIDS? I mean I've not really heard of it before
In this scene there are two performers – one is 1989 and one is 2019. 1989 says – AIDS: I mean I've not really heard of it before. 2019 says – AIDS? Why shouldn't it be included in sex education at school. Anyone can get AIDS. 1989 is shocked and appalled – 'even heterosexuals?'. The scene is funny. The joke is on the past – for thinking that straight people can't get AIDS and for thinking that if we teach children about AIDS, something terrible might happen.
4. A daunting task
In this scene the performers also sit back to back, but this isn't a naturalistic, intimate discussion of shared experiences of school sexual culture. This is a highly stylised scene that captures the power and discomfort of sexuality research, highlighting how strange and inappropriate interview questions can be when taken out of context.
When I spoke to these two young women they said they found it unsettling to re-voice the questions and found themselves silent in response. They said the questions were obtrusive, invasive. Silencing. They capture this beautifully in their scene and shoe that when you decontextualize the interview questions they are stark, shocking and unanswerable.
In the scene the two young women are on chairs and take it in turn to read out the questions that they have cut out from the transcripts. When one asks, the other responds largely through body language. Head in hands, body turned away. Silence. An exasperated 'yes!'. A long stare – of disbelief? And more silence. A shy look towards the floor. And more silence. A quiet – 'I mean I guess so'. And finally, an abrupt leap out of the chair and cry of: I'm not answering that question.
5. Quite a closed question
This scene starts with one young woman holding up a piece of paper that says: 1989. The other two performers act out the start of an interview and the interviewer asks (reading from the original cut up transcript): We are talking abouts sexuality and differences between men and women. I wanted to ask you do you think of your sexuality in terms of physical things like orgasm or in terms of emotional things like getting close or relationships?
The response also comes from the 1989 transcript. The young women tells us that it is 'difficult for me to say right now'. She's quite 'career minded' and doesn't able to get into a relationship as she fears 'it might hold me back'. For her a career and a relationship are incompatible.
The first performer returns, this time silently holding up a piece of paper that says: 2019. The interviewer and interviewee have switched round this time but the question is the same. This time, the respondent speaks as herself, a young woman in 2019. Her response is quietly delivered, and moving:
I mean, I feel like it's quite a closed question maybe? I mean. I don't know. I feel like it's only recently I've been properly confronting what my sexuality means to me and I feel like that binary thing that its either a physical sexual thing or its emotional I feel like women typically either being consigned to having no sexuality or just the emotional side of it is quite limiting and I think sexuality I'm trying to navigate having both and accepting both and it being my own.
This scene has played on my mind. I was struck by how much has changed since WRAP and since I was a teenager, when it felt like young women didn't know they had a sexuality to confront or to understand. We barely knew that we had a choice about being straight, let alone that being straight (or gay or bi) could be done in so many different ways. We were navigating something, but I'm not sure we had the language, reflexivity or self-awareness to know that we were doing it.
Through this project I have come to understand that one of the features of WRAP that made it a landmark study is that it was able to name and denaturalise heterosexuality. This scene reflects on one of those moments in which the researcher is spelling out a feature of asymmetrical heterosexuality in which physical sex is for men and emotional relationships are for women. The respondent is living with this asymmetricity – choosing a career over a relationship, because women cannot have both. In 2019 this language and construction of sexuality is so limiting that the young women cannot relate to it. It is too 'closed' and they see a sexual future that offers much more for them. I'm relieved and grateful that these young women feel able to access a more expanded version of sexuality and also mindful of how much hard work it all seems.
6. Mum – what are these?
The question in this scene comes from a child, who asks her mum, 'what are these?', referring, we guess, to a box of condoms. There are three mini scenes here that tell us a condensed story about the relationship between a mother and her daughter. The passing of time is marked by the daughter standing up and spinning round and telling us how much time has passed: 3 years later! 6 years later! They have a lovely and loving relationship. The mum, it seems, wants to deliver age appropriate sex education for her daughter but she is uncomfortable when her young daughter finds the box of 'sweets' and distracts her by offering Haribo. At 16 she tried to give her daughter 'the sex talk' but her daughter is cringing, barely able to listen, and at this point knows all about condoms from school based sex education anyway. When she starts her period at school, she calls her mum from the school toilets on her mobile and her mum reassures her and helps her out. Go to the reception she says, they will have something there.
7. It was like therapy.
There was one final pair who didn't perform a scene. Instead they 'played' around with the questions and got talking. They found the questions productive and provocative. They had 'a couple of rants' and joked that 'it was like therapy'. One of the pair remarked that reading the questions 'makes you think about things that you wouldn't normally think about on a daily basis'. In particular a question about 'positivity' seemed to resonate. Or rather – the participants response. Whatever the question was she said something like: 'now that I think about it I was actually really sad but I didn't realise it at the time'. This led the pair to talk about how women experience and manage their emotions and how this effects sexual relationships and friendships. 'Its interesting', one commented, 'because as women…there's a lot of pressure to put on a positive font but sometimes you need to take a moment and then you realise – oh actually I was kind of sad then but I didn't let myself feel like that.'

There wasn't much time to discuss the scenes or reflect on the task as we'd taken up most of the three hours already. In the final part of the session the young women reflected on the work they had been doing over the past five weeks, writing down activities they had enjoyed and themes that stood out for them so that Elena and Lae could use these to plan the next stage of the project. I looked at these and saw that one young women had written that they had realised how 'seeing how doing little is actually a lot in theatre'.
In this workshop I was struck by how little data was needed in order to do a lot in theatre. One line, one question, one comment could become a long discussion, an intergenerational story, a highly crafted silence, a joke. Watching the performance months later I saw some of the scenes from the questions workshop in the play, along with movement pieces, songs, group scenes and a series of beautiful monologues in which the young women told their own stories about love, sex, sexuality, relationships and their bodies. It felt like there was no end to what the WRAP data + these young women and their shared creative practice could do.
Previously in workshops with other groups we had struggled to select small amounts of data for groups to work with and had become burdened by the scale of the archive and the belief that we needed to have sound logic in our data selection. We had experimented with bringing along extracts to workshops, carefully selecting data that related to a theme we thought the group might be interested in or from interviews that seemed a good match in terms of age, religion or ethnicity. This was often clunky and what resonated with different women and different groups was surprising and of course unpredictable.
In this workshop data selection had been careful – a deliberate match between the young women and the data in terms of age, gender and occupation but the method had been playful. It allowed the group to work with small amounts of data and explore what the data could do now. The women worked in part in part randomly (chucking the data up in the air and picking up the sheet that fell close to them) and part deliberately and incisively selecting questions that jarred or connected with them.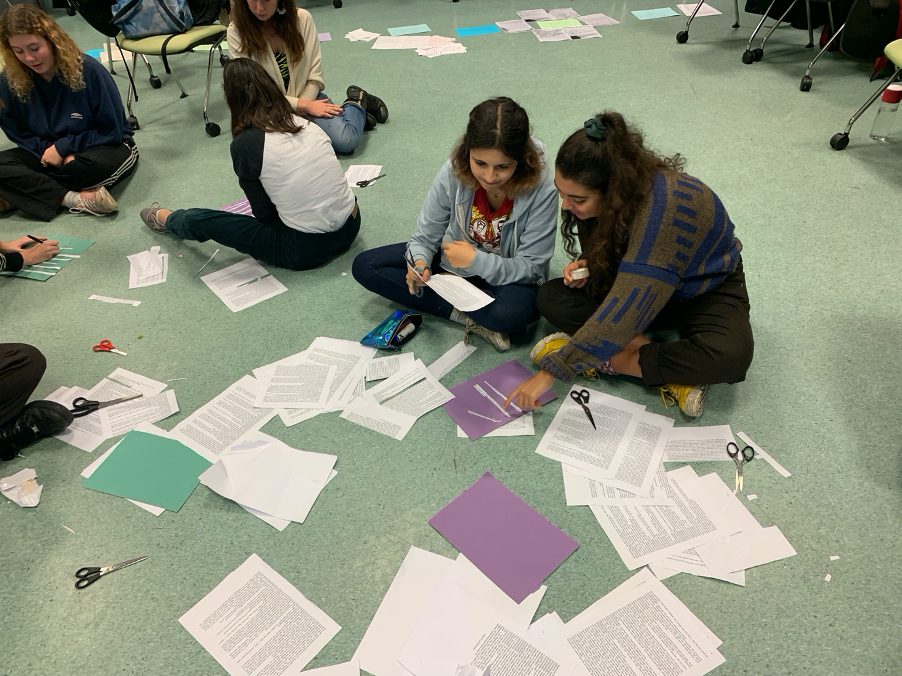 At the end of the session in October I reflected to Elena what a special space they had created. I mused: It feels safe, participatory, inclusive. There are different women there, bringing different experiences. There is so much enthusiasm and appetite for the project – it feels like there really is the opportunity to experiment with the data and the archive as I had hoped we could. This – what's happening in the workshops – is what I wanted to do in this project. I'm wondering why this has 'worked' and the others haven't – at least not in the ways that I had hoped.
Importantly this experiment was the only one that was led entirely by young women. In the other projects I often felt uncomfortable, like we were taking over a classroom or youth group space that didn't belong to us. In this experiment, everyone was in the room because they were interested or invested in the project. They also had a shared creative practice, unlike in other groups were the young women had a shared investment in their youth group perhaps, but not in a shared creative or artistic mode.
Reflecting on 'what worked' helps us pull out the learning for future projects but I also know that meeting Elena and Lae was a moment of luck and serendipity. As third years and women's theatre society committee members they were perhaps looking for an opportunity for the society to do something different and they were also in a position to be able to make something like this happen – to craft the project, to bring together and nurture a large group of young women and craft the experimental work they were doing into a final performance.

You can view the final performance of Reanimating data here and read more about the teams reflections on the project here.